First-time investor: 'I can afford only low-price stocks'
'One should focus not on the price, but the value you get.'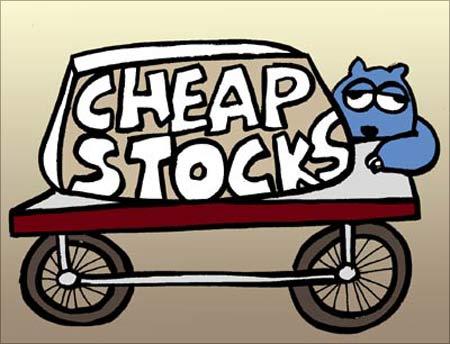 Ajit Mishra, vice president, Research, Religare Broking, answers your queries:
Hariharaprasaad P: Sir, I am going to make my first investment in stock market. Since I am a student and not having a full time employment, I can afford only low price stocks. I have been thinking about investing in Vodaphone Idea, Spice Jet, IOB, GAIL and Network 18. If these are not feasible, please suggest some good low price stocks.
Ajit Mishra: Avoid all except GAIL. One should focus not on the price but the value you get. If you are new to investment, we would recommend investing in blue chips like HDFC Bank, Reliance Industries, Britannia Industries, Maruti and HUL but in staggered manner
Sanjay Nathaniel: I am having following shares in my portfolio. My time horizon is 2-3 years. Kindly advice.
Ajit Mishra:
IDFC First Bank 500 shares @ Rs.33/- – Exit
Yes Bank 1000 shares @ Rs.14.50 – Hold
Ashok Leyland 350 shares @ 90.00 – Hold
ITI 300 shares @ 96.00 – Exit
HCC 2000 shares @ 9.00 – Exit
IDFC 500 shares @ 41.00 – Exit
NBCC 500 shares @ 36.00 – Exit
Vasudev Lalwani: I hold the following stocks. Seek your advice.
Ajit Mishra:
santhose kumar: I'm holding following shares pls do advice should I hold Or exit or average.
Ajit Mishra:
bajaj finance [email protected] Hold
hdfc life [email protected] Hold
ITC [email protected] Hold
SBI [email protected] Hold
Yes bank [email protected] – Hold
Jiya eco [email protected] – Exit
PNB [email protected] – Exit
Kec [email protected] – – Hold
Infibeam [email protected] 40.2 – Exit
sunil malik: I have the following stocks bought about two years back when market and these stocks were at the peak. please suggest whether I should hold them if yes then for how long or sell now. And should I hold Trident or Sell Off.
Ajit Mishra: Trident – Exit
HBL Power (2000) bought at 47/- – Exit
Jain irrigation. (300 ) " 113/- Exit
future consumer (1000) " 66/- – Exit
Solar industries. ( 100 ). " 1168/- – Hold
Good Luck India. ( 500). " 82/'- – Exit
Yash Paper. ( 1000). " 43/– Exit
Jayaswal Neco. ( 3000). " 7.60/- – Exit
IOC. ( 200). 150/– Hold
Sunil Kumar: I hold the following stocks and would like your advice on their long term holding as well as in what range I should buy or exit with target in mind.
Ajit Mishra:
1. Kalyani Steel – 83 @ 243 – Exit around 320
2. IndiabullsHsg – 59 @ 206 – Exit around 250-260
3. SBI – 87 @ 191 – Hold
Bhushan Khakole: I have following stocks in my portfolio; please suggest what should I do with them?
Ajit Mishra:
ITC – [email protected] – Hold
PetronetLNG – [email protected] Hold
Idea – [email protected] – Exit
Sail – [email protected] – Exit
Reliance [email protected] hold
Ravi Manchili: Sir i am holding the following shares. I thought of keeping these shares for 10 years. Sir please help me to identify which shares i have to keep and which i have to sell.
Ajit Mishra:
BHARAT FORG – Hold
DLF – Exit
EXIDE INDUSTRIES – Hold
ALEMBIC PHARMA – Hold
ICICI SECURITIES- Hold
MOTHERSON SUMI SYSTEMS – Exit
RAIN INDUSTRIES – Exit
KILPEST – Exit
CADILA HEALTHCARE – Hold
MARICO – Hold
TVS MOTOR- Hold
HATSUN AGRO PRODUCTS- Hold
HDFC BANK- Hold
COROMANDEL INTERNATIONAL- Hold
CASTROL INDIA- Hold
KAJARIA CERAMICS- Hold
RALLIS INDIA- Hold
TV TODAY NETWORK – Exit
CCL PRODUCTS- Hold
ORIENT ELECTRIC- Hold
CARBORUNDUM UNIVERSAL- Hold
BHANSALI ENGINEERING POLYMERS – Exit
CAPLIN POINT LAB – Hold
IOL CHEMICALS AND PHARMA – Hold
MAHINDRA AND MAHINDRA FINANCIAL SERVICES – Hold
TATA CHEMICALS – Hold
ULTRATECH CEMENT – Hold
TUBE INVESTMENTS OF INDIA – Hold
HINDUSTAN ZINC – Hold
CHAMAN LAL SETIA EXPORTS – Exit
BRITANNIA INDUSTRIES – Hold
RELIANCE INDUSTRIES – Hold
ITC – Hold
INFOSYS – Hold
HINDUSTAN UNILEVER – Hold
BAJAJ AUTO – Hold
ICICI PRUDENTIAL LIFE- Hold
COLGATE PALMOLIVE- Hold
AMARA RAJA BATTERIES- Hold
PIDILITE INDUSTRIES- Hold
AXIS BANK- Hold
BAYER CORP SCIENCE- Hold
SANOFI- Hold
MINDTREE- Hold
LAURUS LABS- Hold
GRANULES- Hold
TATA CONSULTANCY SERVICES- Hold
AUROBINDO PHARMA- Hold
TATA CONSUMER- Hold
BALKRISHNA INSUSTRIES- Hold
AVANTI FEEDS – Hold
COAL INDIA – Exit
CUPID – Exit
DEEPAK NITRITE – Hold
GEOJIT FINANCIAL – Exit
GE SHIPPING – Exit
GUJARAT PIPAVAV PORT – Hold
HCL TECHNOLOGIES – Hold
INDRAPRASTA GAS – Hold
ORIENT REFRACTORIES – Exit
EICHER MOTORS – Hold
anoop desai: I have below stock, please let me know which stock should I need to hold on which I need to sell off, your guidance will be really helpful. Lookin forward for your valuable inputs
Ajit Mishra:
Joydeep Nandy Majumdar: Please advise on the below stocks for 1 year holding perspective (August to September 2021 perspective)
Ajit Mishra:
Except GIC, Hold all the other stocks for long term.
rakhee regay: Pls advice on the following stocks
Ajit Mishra:
India Bulls Housing Finance – bought at 250 – Exit
India Bulls LISL boughts at 250- Exit
Tata Consumer product – 525 – Hold
Marsh: Thank you so much for answering my last query. Your counsel is strengthening my stock portfolio. Here are my new additions to my portfolio. Please advise your views for these shares.
Ajit Mishra:
ITC – 50 @ Rs.230 (bought long back) – Hold
M&M – 30 @ Rs.620- Hold
Auropharma – 15 @ Rs.780- Hold
L&T – 15 @ Rs.1000- Hold
Laurus Labs – 10 @ Rs.1370- Hold
JOHNSON DIAS: I am holding the below stocks, could you please let me know if I can add any more stocks on dips or can hold any or do I need to sell any stocks. Any suggestions on this would be appreciated?
Ajit Mishra:
Aarti Drugs @3018 — Hold
Bharat Electronics @103- Hold
Dr. Reddy's Labs @5166- Hold
Granules India @377- Hold
ONGC @77- Hold
deb mukherjee: I am holding RBL bank 250 shares @ 200/- and Jindal steel 200 shares @ 197/- should I hold or exit looking at current prices and market scenario. Please advice
Ajit Mishra: One can hold both these stocks for long term.
Asokan T: I am having GIC-400 shares bought in IPO and now having a loss of 70%. and Indian oil 400 shares having a loss of 50%. What should I do
Ajit Mishra: Hold Indian Oil, Exit GIC
Debasish Adak: I have retired on August. I just wanted to ask you whether it is feasible to invest at present in stocks like Divi' s Lab, HDFC Ltd, ITC and Bayer Corp.
Ajit Mishra: Yes, however invest in a gradual manner.
MORE ADVICE FROM MR AJIT MISHRA
Please mail your questions to [email protected] with the subject line 'Ask Ajit', along with your name, and Mr Ajit Mishra will offer his unbiased views.
Disclaimer: This article is meant for information purposes only. This article and information do not constitute a distribution, an endorsement, an investment advice, an offer to buy or sell or the solicitation of an offer to buy or sell any securities/schemes or any other financial products/investment products mentioned in this QnA or an attempt to influence the opinion or behaviour of the investors/recipients.
Any use of the information/any investment and investment related decisions of the investors/recipients are at their sole discretion and risk. Any advice herein is made on a general basis and does not take into account the specific investment objectives of the specific person or group of persons. Opinions expressed herein are subject to change without notice.
Source: Read Full Article