FAT to FIT: How I Lost 24 kg in 5 months
Tarunraj Yadav from Vapi, Gujarat tells us how he transformed his body in just five months.
I am 27. As part of my marketing job, I have to travel often to meet clients.
Due to bad food habits I gained too much weight and reached up to 90 kg.
I found it difficult to climb 10-15 steps on the stairs. I couldn't even run 100 metres.
In December 2020, when my friends came to celebrate my birthday, we clicked some pictures.
After the party when I looked at the pictures, I realised I looked fat. That's when I decided to do something about it.
I started my fitness journey in January 2021.
After five months of continuous hard work without any additional supplements, I was able to lose 24 kg.
My current weight is 64 kg.
My workout
I work out between 1 hour to 90 minutes everyday.
I started with cardio and followed with weight training.
As part of cardio, I do running and cycling.
For weight and muscle training, I dedicate one day every week for legs, shoulder, chest, biceps, triceps and back.
These are some exercises I do in a week:
Jumping jacks
Mountain climbers
Squats
Lunges
Push ups
Planks
Spot sprinting
High knees jump
Glute bridge
Leg raises
For a stronger core, I do these exercises:
Plank shoulder taps
Russian twist
Plank rotation
V crunches
Mummy sit-ups
Flutter kicks
Side plank
Bicycle crunches
Sit-ups
Burpees
Currently, I am pursuing high intensity workout — first running, followed by jumping jacks, jumping squats, push up, lunges and plank variations.
My diet
Before workout: Peanut butter or banana
9.30 am: Moong chana and vegetable mix salad
11 am: Green tea
2 pm lunch: 2 rotis with seasonal sabzi
5.30 pm: Black coffee with roasted chana
8.30 pm dinner: 1 roti and 1 bowl dal
10.30 pm: Turmeric milk with dry fruits.
In the initial days, I was not able to wake up on time. On some days I skipped the gym because I was too lazy.
A few days later, I realised that if I continued this behaviour I won't be able to change anything.
Gradually, I learned to set an alarm for 5.40 am and began to follow the routine.
When the alarm rings, sometimes my body says, 'Come on, get up and leave Tarun.' But my mind says, 'No you cannot.'
Every day, I jump out of bed and get ready for gym.
If I am travelling for my job, I look for gardens, parks, gyms or running tracks nearby where I can work out for a day.
Lessons learned
Initially, it is very difficult to do any exercise. But once you make up your mind and be strong, nothing can stop you.
I am not regular at the gym. But I exercise daily. The place doesn't matter — hotel room, train or station; park or ground…but exercise is important.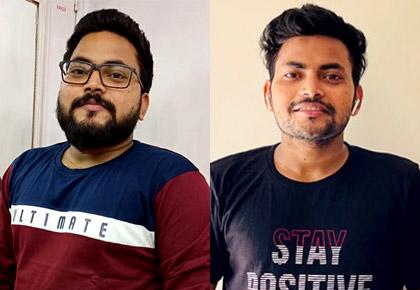 DON'T MISS! More Inspiring FAT to FIT features
Have you recently lost weight or survived a health condition?
We want you to share your story with us. Tell us how you did it.
Please share your diet plan, exercise tips, learnings and more.
Kindly mail [email protected] (My Fitness Story) along with your NAME, AGE, LOCATION, along with a before and after photograph of your fitness journey. We'll feature the best responses on Rediff.com.
Source: Read Full Article