Diwali Recipe: Akhroti Sabudana Khichdi
Make your Diwali meals sumptuous with Chef Varun Inamdar's crunchy, no-fuss Akhroti Sabudana Khichdi that's packed with walnuts.
The walnuts stand in for the peanuts, that usually feature in sabudana khichdi, and provide a gourmet touch to a festive repast.
Akhroti Sabudana Khichdi
Serves: 2-3
Ingredients
1 cup sabudana or tapioca pearls
½ cup cold water, or as required
1 tbsp ghee
1 tsp jeera or cumin seeds
¼ cup potatoes, boiled, peeled and diced
¼ cup walnut powder
¼ cup walnuts, chopped roughly
1 tbsp green chillies, chopped
1 tsp salt
1 tbsp or less sugar
Method
Using a channi or colander rinse the sabudana well, until the water runs clear of starch.
Drain and transfer into a bowl.
Add the ½ cup cold water and soak for several hours or overnight.
Before cooking, fluff the sabudana with your fingers.
Add the diced potatoes, the roughly chopped walnuts and the walnut powder.
Add the salt and sugar.
Mix well.
Heat the ghee in a heavy-bottomed kadhai or frying pan.
Add the cumin seeds and let it crackle.
Add the green chilies along with the sabudana mixture.
Stir well.
Cover the pan and let it cook in its own steam for 5 minutes.
Serve hot.
Varun Inamdar is a chef, food stylist and chocolatier.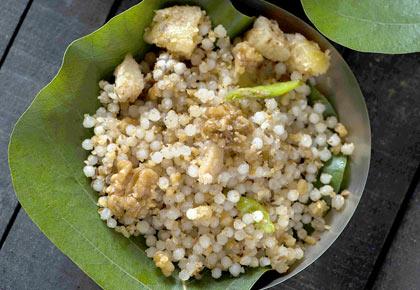 Source: Read Full Article